ART IN CRISIS – PRESENCE Part Of Crisis Skylight Festival
Art in Crisis, a series of public events organised by national homelessness charity Crisis, will open a window onto homeless artists at work in their studios across the UK from 15-31 July.
Private view – Monday the 18th of July at 6.30pm.
As part of the national programme, Crisis Skylight Croydon will present compelling, original projects from its clients, whose work has been developed with RISEGallery and ArtHalo.
Highlights include PRESENCE, an experiential exhibition made up of a series of bespoke, stand-alone structures hosting the work and ideas of Crisis clients. The temporary exhibition spaces will permeate the fabric of Croydon town centre by offering an immersive insight into the usually invisible art works of marginalised groups.
Together the events open a window onto the work of artists experiencing homelessness, revealing how art can help us all relate to others and seek our place in the world.
The commissioned structures for PRESENCE after the exhibition closes will be then donated to refugees camps in Calais to help provide much needed shelters for people who have fled war torn countries.
These structures will be open to the public everyday from the 18th of July – 31st of July along side a curated art exhibition at RISEgallery
Structure locations – Dingwall Road & North End in Croydon
This groundbreaking project has been made possible with the generous support of Key sponsors Croydon BID and Kevin Zuchowski-Morrison (CEO of RISEgallery)
Key Supporters & collaborative partners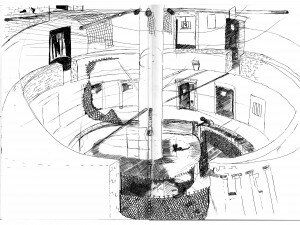 ArtHalo Exhibition at Croydon University Hospital
Our first exhibition took place on the Woodcroft corridor at Croydon University Hospital, which finished in December, 2014. The artwork for the exhibition was chosen from artists who took place in our pilot course to create a group show.
The exhibition was shown at:
Croydon University Hospital,
530 London Road
Croydon
Surrey
CR7 7YE
Guided talks of the exhibition were available on request. For sales enquries for any of the shows artworks please contact us. You can download a PDF Exhibition Catalogue by clicking here.